Summer Camp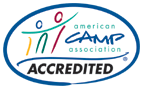 Our signature summer program includes 7 weeklong sessions for children with serious illnesses and one session for their healthy siblings. Campers aged 7 – 15 ride horses, create crafts, swim and so much more, as they bond with other children facing similar challenges and learn they are capable of so much more than they ever thought possible.
The Hole in the Wall Gang Camp will provide traditional programming in summer 2023 with eight, seven-day sessions operating at a reduced capacity and various safety protocols incorporated to mitigate the spread of infectious disease, including Covid-19.
While we remain hopeful that Hole in the Wall's 36th summer will more closely resemble a traditional season, Camp's Medical Team will continue following local, state, and national public health guidelines to determine how to conduct our summer program most safely.
Application and schedule
Who Can Attend
Camper

Story

Hole in the Wall has given me both a physical and spiritual place where I have felt safe, respected and loved for well over half of my life. I am forever grateful for the opportunity to give that to a new generation of campers...I was the only long-term survivor in my chemo class of 18, and Camp was the only place in the world where I saw that kids like me not only survived, but thrived.
Did
you
know?
Wee-Pee is a giant fish living in Pearson's Pond. Many have seen him, but none have caught him.