Summer Camp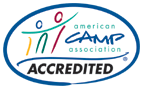 Our signature summer program includes 7 weeklong sessions for children with serious illnesses and one session for their healthy siblings. Campers aged 7 – 15 ride horses, create crafts, swim and so much more, as they bond with other children facing similar challenges and learn they are capable of so much more than they ever thought possible.
The Hole in the Wall Gang Camp will provide traditional programming in summer 2024 with seven sessions operating at a reduced capacity and various safety protocols incorporated to mitigate the spread of infectious disease, including Covid-19.
While we remain hopeful that Hole in the Wall's 37th summer will more closely resemble a traditional season, Camp's Medical Team will continue following local, state, and national public health guidelines to determine how to conduct our summer program most safely.
Application and schedule
Who Can Attend
Camper

Story

The Hole in the Wall Gang Camp changed my life the second I walked onto Camp in 2011. I cried the day before I came to Camp for the first time because I thought it would be the worst week of my life and that it would make me feel worse than I already did. I cried the day I left as a camper for the last time because Camp made me realize that I was not a victim, I am not an embarrassment, and I should never feel anything but happy. There's no other place in the world where I can sing at the top of my lungs, jump off a tower knowing that nothing would ever happen to me, feel love the second I entered, and most importantly, not be made into an awkward embarrassment because I had leukemia.
Did
you
know?
Camp's favorite song is Stars in the Sky.