Hero's Journey® Program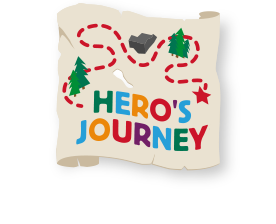 For teens who have aged out of our summer camp program, we offer the Hero's Journey® program. Located in the woods of Connecticut, this weeklong program teaches self-reliance, positive communication and teamwork through a variety of exciting challenges. The journey provides participants with opportunities to step outside comfort zones, discover more about themselves and become "the hero of their own story,"while building community and connection through shared experiences.
Learn more about the Hero's Journey® program before applying.
The Hero's Journey® mark is used under license from the Joseph Campbell Foundation (www.jcf.org).
Camper

Story

I have found that upon returning home from HJ, I do not have words to describe how much this program meant to me, which I believe only proves how meaningful it was. The staff has literally left me speechless, through their tireless work and dedication to campers and the program. I was amazed by everyone's positive attitudes and ability to gel as a team. I would not trade this experience for anything. It has greatly enhanced my world view and I know it will greatly impact the work I do, all in positive ways.
Did
you
know?
During Hero's Journey, meals are prepared over the campfire with everyone getting in on the prep.