26th Annual Beantown Bash
Make a donation to support this event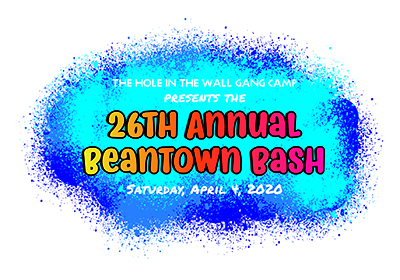 Due to the evolving COVID-19 situation, the current State of Emergency in Massachusetts and a desire to promote the safety of all, we cancelled our 26th Annual Beantown Bash scheduled for Saturday, April 4th at Boston Children's Museum.
Donations are still being accepted via the MAKE A DONATION TO SUPPORT THIS EVENT link above. Although we will not be holding the event, your support is still important in allowing The Hole in the Wall Gang Camp to provide "a different kind of healing" to more than 20,000 seriously ill children and family members annually - all free of charge.
If you have questions regarding the Beantown Bash cancelation, please contact Jennifer Weeks at (203) 745-2723 or via email.
The 25th Annual Beantown Bash – April 6, 2019
The silver anniversary of the Beantown Bash was one for the record books, raising $1,578,655 for Camp! Boston Children's Museum played host once again to 800 supporters ready to celebrate into the warm spring night! Guests were greeted by hometown mascots Wally and Tessie from the Boston Red Sox, Blades from the Boston Bruins and Pat Patriot from the New England Patriots, and went on to enjoy cocktails and mocktails, hors d'oeuvres, culinary stations and desserts around every turn!
The night was packed full of fun as attendees explored all three floors of Museum entertainment. The options were endless, with guests competing in virtual race car simulators, putting their way around 9 mini-golf holes, watching a live interactive LED Robot show in the KidStage Theater and interacting with Amazing Animal Ambassadors. Rock star voices could be heard echoing throughout the Museum as the karaoke stage featured vocal performances by many of our burgeoning pop stars! Guests strutted their best moves on the dance floor as the Bash DJ took requests and spun tunes, and magician and mentalist David Hall stunned his audiences with his amazing slight-of-hand tricks and mindreading. Arts & crafts, face painting and a green screen photo experience rounded out the amusements!
The heated beer garden was home to the very popular craft beer wall, where regional light bites such as lobster rolls were served. Patriots Wide Receiver Matthew Slater signed autographs throughout the evening with fans eager to congratulate him on the team's recent Super Bowl win! As the festivities came to a close, the silent auction revealed winners of such eclectic offerings as a trip to Bermuda, a football autographed by Tom Brady and JLO concert tickets. Before departing, adults were gifted 25thAnniversary koozie keepsakes and kids left with Camp-branded head lamps to the light way home!