Our Medical Program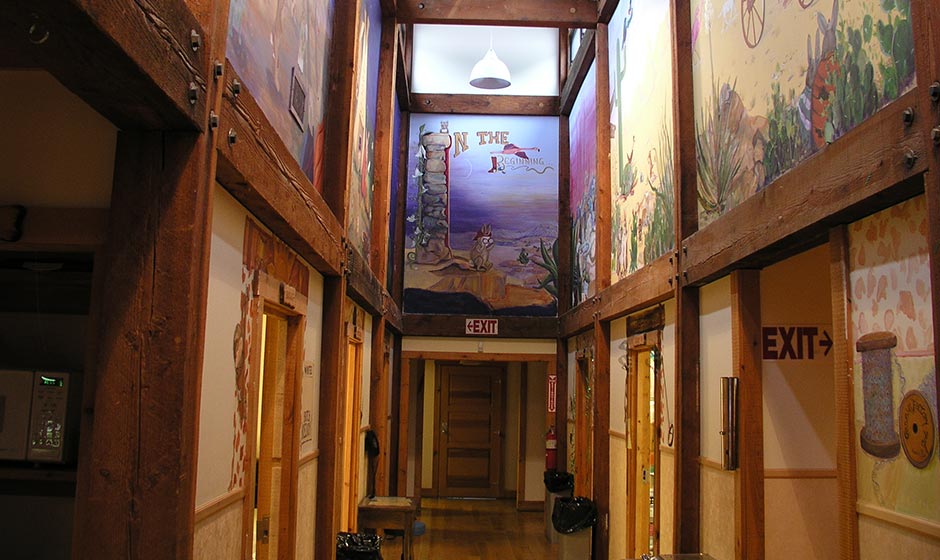 The health and safety of our campers is our top priority at The Hole in the Wall Gang Camp, and so is fun. With that in mind, Camp provides a significant, yet unobtrusive, medical presence. Our infirmary, aka the OK Corral, looks like a 19th century mill with walls covered in colorful paintings that tell the story of Camp. The medical staff dress in the Camp "uniform" – shorts, t-shirts and no stethoscopes, thank you very much – and look like all the other counselors at Camp. Medications and treatments are brought to the child whenever possible to minimize any time they would miss from the programs. Even though it doesn't look like a hospital or clinic, the OK Corral and its staff provide all treatments for the campers we serve. These treatments can include: medications (oral, IV, IM, subcu), IV infusions (medications, fluids, nutrition), G/J-tube feedings, chemotherapy, central line care and more.
Our
Medical
Staff
We hire eight nurses for the summer camp season. We also have volunteer physicians and nurses who help in the summer and for weekend programs. When Camp is in session, the infirmary is staffed by nurses and physicians 24 hours a day.
Meeting the Medical Needs of Our Campers
The full-time medical staff work closely with the camper's parents and medical providers before the child's arrival at Camp to understand each child's medical needs. Our nurses provide routine, scheduled medical care as prescribed by each camper's primary physicians or specialists and their parents. This includes overnight care in the Moose Lodge for campers who require treatments during the night. Moose Lodge is a residential area of the back of the infirmary. Parents have the opportunity to sit down with their child's nurse to review all medical care, special needs, medications, restrictions, etc. on arrival day. We can also provide emergency medical care as needed while the children are at Camp.
Camp works closely with Connecticut Children's Medical Center in Hartford, Conn. if our campers need care beyond what we can safely provide onsite. In addition, we have ties with many medical institutions in New England, New York City, New Jersey and Philadelphia.