Camp Funding and Financials
"In the final analysis, we'll be about as good as what people make us. And we'll need a lot of help to get this realized. The only thing we can do is to find the people in the community that feel the way we do."
– Hole in the Wall Founder Paul Newman
Paul Newman never wanted The Hole in the Wall Gang Camp to be reliant on him or any one funding source. While he and Newman's Own were instrumental in building The Hole in the Wall Gang Camp, they contributed only half of the funding needed to cover the initial costs of construction. The other half was generated through a fundraising campaign, which was an important first step to invite a broader community of like-hearted individuals inspired by what Paul had created to make his dream their own.
Today, while Newman's Own remains a loyal friend and generous donor, the majority of The Hole in the Wall Gang Camp's funding needs each year rely on the generosity of thousands of others who have followed in Paul's philanthropic footsteps including individuals, corporate partners, and foundations. This diverse community of support is exactly what Paul had in mind when he imagined Camp. As this compassionate family of friends has grown over the years, so has Hole in the Wall's ability to expand its service reach, from 288 campers during Camp's first summer to now thousands of children with serious illnesses and family members annually throughout the Northeast and Mid-Atlantic. We are grateful to each member of this caring community who continue to help bring Paul Newman's dream of "a different kind of healing" to exciting new places.
Our Financials
We are pleased to present our financial results that highlight the magnificent support of friends like you. Yet again, your generosity has enabled The Hole in the Wall Gang Camp to fulfill its mission to provide "a different kind of healing" to children with serious illnesses and their families through year-round programs that celebrate the fun, friendship, and spirit of childhood. It is a shared commitment of our staff, board and community of friends. We work together to ensure safety, inclusion, friendship, possibility and gratitude define every Camp experience.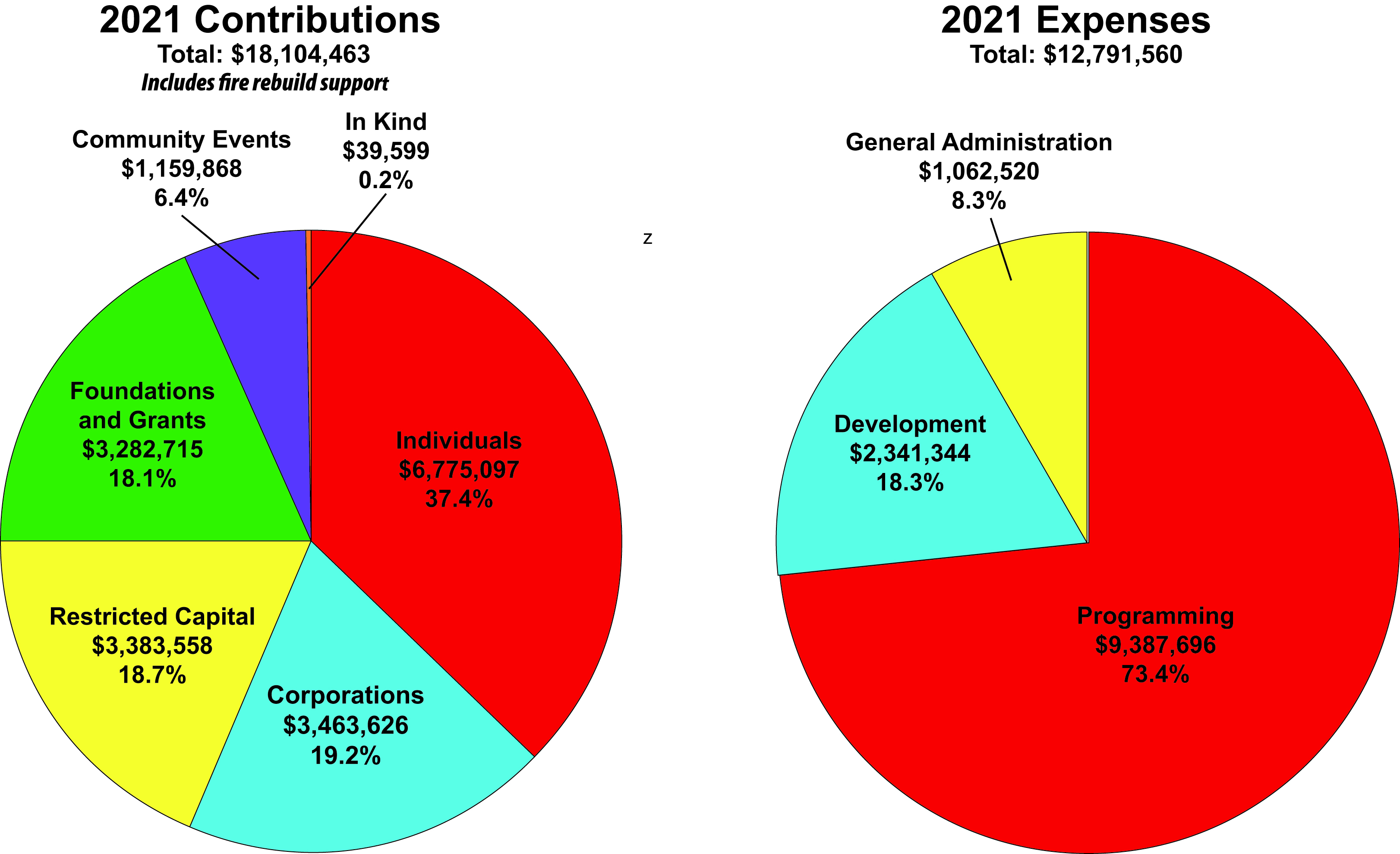 It is an enormous privilege that is 100 percent funded by annual contributions and endowment gifts. Nearly 20,000 donors made gifts last year, reminding us that you place substantial priority and value on our services: overnight Camp experiences, Hospital Outreach programs in forty partner locations throughout the Northeast and Mid-Atlantic and Family Outreach in homes and communities.
Collectively, your contributions made it possible to invest in the people and programs that make it all possible. We sincerely appreciate your continued support, which brings the magic of Hole in the Wall to those who need it most.
Just about everything looked a little different in 2021…. including our financials. After a fire destroyed the iconic buildings that housed several program areas, our community jumped to action. Within a day, Travelers and the Travelers Championship stepped forward with an incredibly generous $1 million dollar match, which inspired more than 4,000 donors to step forward with their own gifts. Newman's Own Foundation also stepped up with an additional amazing $1 million dollar gift. All of the funds received from this inspiring outpouring of support are being used to rebuild in a way that will best meet the current, future and varied needs of our campers and their families. We are so grateful to our community for making this possible.