Hospital Outreach Program (HOP)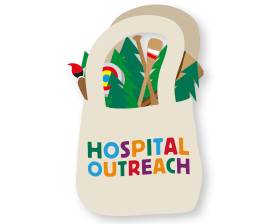 The Hospital Outreach Program (HOP) allows us to bring the joy and fun of Camp beyond the Camp grounds to children and families in a hospital setting.
From arts & crafts to interactive games, HOP activities are inspired by our summer Camp program but are specially adapted to each unique hospital and clinic setting. And just like at Camp, all interactions are child-driven, restoring choice – something children undergoing medical treatment so often lack.
How HOP Works Download Brochure
HOP

Story

Each of the HOP staff I have come in contact with has provided unique and heartfelt stories. From a smile in the distance, to having someone who is coming to do something with the child instead of to them, to allow the child a chance to be a kid for a little while. For some of our kids who are in for long periods of time, it is a positive break from isolation – without any baggage of being evaluated or judged.
Did
you
know?
The Philly HOP office is currently home to 23 gallons of Elmer's glue, and uses at least one extra large bag of bling per month!