CampOut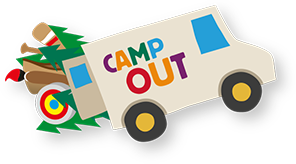 CampOut brings the joy and fun of Camp to campers and their families right in their hometowns. The program helps the magic and connections of Camp continue throughout the year as a team of traveling specialists drive a whimsical van filled with Camp-style activities, crafts and games to locations throughout the Northeast, including camper homes and communities.
CampOut

Story

Maddie has been having a tough time recently, so I could never thank you enough or tell you how much it truly, truly meant to us to have this to look forward to & how much fun Maddie had yesterday!! You guys rock!! Maddie said it was even more fun than she anticipated, if that's even possible!

For 13 years we have been making the 8-10 hour round trip back & forth to New England for medical care & support. This is the first time that some of that support came to us; we would have never dreamed that would happen. We are so grateful & humbled that you both traveled the distance to come & visit our Maddie.
Did
you
know?
The smallest activity kept inside the CampOut van is glitter, lots of glitter – ready for any arts & crafts project!