Cuts for Camp, Braids for Bandits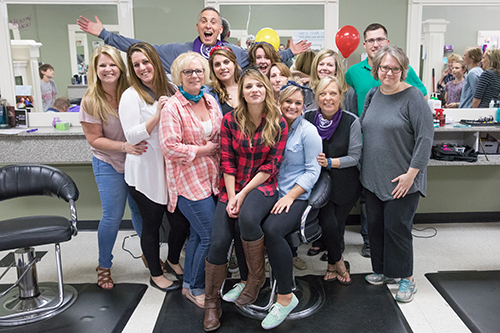 At Hair Today, a salon in Glastonbury, Conn., they live by the motto – Look Good, Feel Good, Live Good. For years, owners Mike and Jane Chemerynski, known as the "Ski's," have been hosting fundraisers for various non-profits, and when it was time for this year's fundraiser, they opened it up to their clients and friends for suggestions.
"We had many wonderful causes recommended," said Mike. "We were reviewing the ideas, and when we read about Hole in the Wall, it immediately touched our hearts. The more we learned, the more we fell in love. And when I later learned that my cousin, Craig Naumec, who passed away in 2015, had worked there, it made the event even more meaningful."
So, Cuts for Camp, Braids for Bandits was launched, bringing the community together to have a positive impact. For three hours, Hair Today's outstanding staff provided haircuts and braids for $10, which was then donated to Camp. When the event opened, there was a line outside of folks waiting to attend, and more than 150 people came out to enjoy the afternoon and support Camp.
"Our salon team was so critical to the success of this event," Jane said. "We had no idea at first whether anyone would come, so we were a bit overwhelmed when so many people showed up. But our amazing receptionists had a plan in place, and we were kept busy all afternoon, giving more than 80 haircuts and braids."
In addition to pampering themselves with haircuts and braids, participants enjoyed a multitude of activities including a photo shoot, live DJ, face painting, beat boxing, ballon making and more. B.Good donated all the food, while ShopRite donated Newman's Own products for a fun lemonade stand staffed by Hair Today kids and Glastonbury High School volunteers. In all, more than 30 local businesses lent a hand, providing tasty treats, entertainment or items for the raffle, donating thousands of dollars in merchandise. In total, the event raised $7,500 for Hole in the Wall.
"We enjoyed our visits to Camp and are grateful for what the Camp staff and volunteers do throughout the year for children and families in our communities," Mike said. "We are also so grateful for our wonderful, caring salon team, clients, family, friends and community for supporting Camp. Everyone loved our event, and we can't wait to do it again next year."