You've Got a Friend in Me
Posted on by Cayla Sanetrik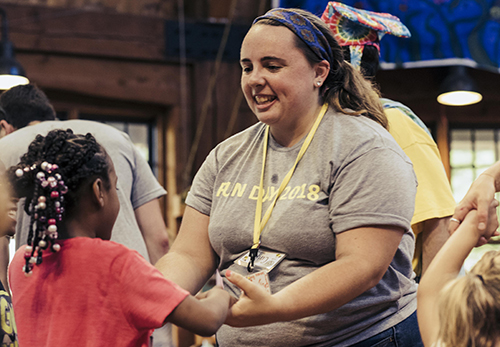 My Camp story began thirteen years ago in 2006, when my family attended a Family Weekend after my brother Austin was diagnosed with a brain tumor. After that first weekend I was hooked. I attended sibling sessions, was a Hero's Journey participant, and participated in the LIT 1 & LIT 2 programs. When I was a camper, my counselors were my biggest role models and the people I looked up to. I was somewhat of a shy kid, and aspired to one day work at Camp, like them, and be that person for kids like my brother and me.
In 2015, I was lucky enough to join summer staff, and this will be my fifth summer working at Camp. Last summer I had the privilege of being the Unit Leader in yellow, where the theme was Ohana. Ohana is the Hawaiian word for family, and it means no one gets left behind or forgotten. In the yellow unit, I wanted to create a place where campers, volunteers and staff just simply belonged, and everyone was there to support one and another.
Camp for our campers, is a place where they can finally make a friend (or 8); where they might meet another kid who's "just like them" with the same or similar diagnosis. This is so power for all the campers and families that we serve at Camp, including the siblings. When my brother was going through treatment, my friends at school didn't understand why I couldn't do certain things like have sleepovers or why I was "always at the hospital." When I came to Camp, there was a full cabin of people who just got it and I found a life-long friendship. The best friend I made in the blue unit in 2008 is still my best friend today, and a counselor with me.
This summer, I'll be back in yellow as the unit leader, and our unit theme is "You've Got a Friend in Me" from Toy Story. My goal for the summer is to help foster friendships, just like the ones I made at Camp. It's my hope and goal that every single one of the campers in yellow leaves Camp with at least one new friend this summer. If they can make a friend at Camp, hopefully that will give them the confidence that they can make friends outside of Camp as well.
---