Senior Reflections
Posted on by Camper Zak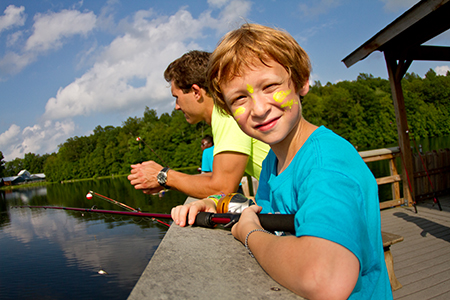 I'm Zak, and I was born with severe hemophilia A. I have spent all my life learning to combat the possibility of bleeding internally into any muscle, joint or organ. Every morning I infuse artificial clotting factor into my veins to supplement the protein I am missing. While it is true that with my medicine I typically avoid serious internal injury, I have faced many scenarios where I was not wanted because of my disorder. When I was a baby, I was rejected from daycare because I would be "too much of a worry." When I was in elementary school, my science camp application was turned down because I would be "too much work to look after." When applying to high schools, my principle had serious concerns and strictly advised me against attending a school that operates with power tools and some heavy machinery. (I decided to go anyway).
But do you know why I was able to go to the high school I wanted to go to? Do you how I have the confidence to share my story with all of you? One word. Camp. Ever since I stepped foot on Camp for my first time in 2010, my life has NEVER been the same.
Throughout my years here, I have made friends with cancer, sickle cell, hemophilia and other rare disorders. But at Camp, all that stuff doesn't matter. There is nothing that prevents me and the other campers from having the best week of our lives and bonding in ways that only Camp goers can truly understand. The group dynamic of a cabin, such as the one I was in this past summer, will grow to heights you can never imagine.
At Camp, everyone is included within the activities and overall joy that we are experiencing. We take on challenges together, as a team, no matter the physical challenges we face. The way we work together and connect as a group of totally different people translates to how I associate with people in the outside world. Sadly, sometimes the world isn't as pretty as Camp is. So sometimes it's important to do what the Camp Director Hillary tells us – bring a little bit of Camp home and share it with the world. That's something I always try to do, no matter the circumstance.
This summer, I finished my last week of Camp as a camper. As a senior camper, my cabin was able to climb the tower and ropes course by helping each other and supporting each other, the way we always do. It was the time of my life, but I would never expect anything less from this place. The week went by in the blink of an eye, and it was impossible to leave. But it's been a few months now, and as I've recovered from all the sadness of coming home, I'm able to look back on my time at Camp as a whole and ALL that it's done for me. And believe me, it's done a lot. I know that my life has been changed forever and because of Camp, I have become the person I have always wanted to be. As I look move forward, I hope to complete the Hero's Journey program and then I hope to be a counselor and spread the love, joy and magic Camp has to offer. So thank you Paul, for this Hole in the Wall, this Camp's been good to me.
---