Welcome! It's Going to Be an Amazing Week!
Posted on by Hilary Axtmayer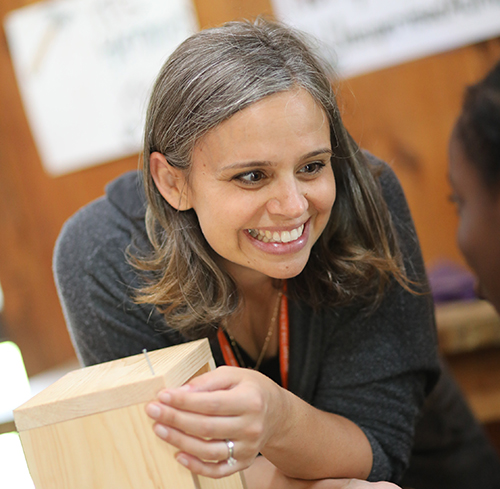 As the executive Camp director, I have the enormous privilege each opening night campfire to welcome all of our Campers and to share both our Camp story as well as my hopes for each of them during their time at Camp. The excitement and anticipation of what's to come is palpable, and I am always struck by the opportunity that awaits – the impact that Camp and our incredible group of staff and volunteers can have on our 120+ campers in such a short time.
In these opening moments, I often recall my first summer on Camp in 2001, when I was a counselor. The Camp director would similarly set the tone for the week and inspire each child and counselor to be their best self during their time at Hole in the Wall. He would explain that, as a result, they would have an incredible life-changing experience. I realized during those moments that my journey at Hole in the Wall was just beginning. I was inspired by not just the Camp director's words but also by the campers themselves. I felt so incredibly fortunate to be a part of something so special and am humbled to have a similar opportunity to inspire each session's campers, staff and volunteers.
My hope and message for our campers each week is simple: make new friends, try something new and, most importantly, be kind to one another. I explain that if they can do these three things, then each and every one of them will have an amazing week filled with fun and laughter, and they will feel safe, respected and loved.
Six days later, on the eve of the last day of Camp, I ask the campers if they remember those three things we spoke about that first night. Dozens of hands fly into the air. One by one, the campers proudly share with me and the entire Camp that they made a new friend or maybe two or three or even seven new friends. "What about trying something new?" I ask. Even more hands excitedly shoot up. "I tried woodshop." "I caught my first fish." "I slept away from home for the first time." "I learned how to give myself my medicine." "I climbed the tower and learned to fly." Each response triggers a roaring applause. The immense pride on each child's face as they share their accomplishment is unmistakable. And then once again, for the second time that week, I am struck by not only the impact that Camp has on these children but also the impact the campers have on all of us. I share how proud I am of the kindness they showed one another and ask them to bring their kindness, resilience, love and strength into their communities and their world outside of our Camp gates. I tell them they have the power to make our world more beautiful and in fact, I say, they already have.
We all have so much to learn from our amazing campers, and I am so lucky to witness it first-hand. At a time when the world can feel ugly at times, I am left optimistic about our future after spending a week with these incredible children.
---