Lucky Me
Posted on by Michele "Gill" McKenna
"I wanted, I think, to acknowledge luck: the chance of it, the benevolence of it in my life, and the brutality of it in the lives of others; made especially savage for children because they may not be allowed the good fortune of a lifetime to correct it." – Paul Newman on his inspiration for founding The Hole in the Wall Gang Camp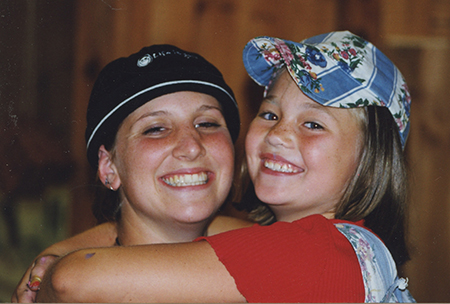 The brutality and benevolence of luck is pretty much at the core of any camper's journey to The Hole in the Wall Gang Camp and mine starts out much the same.
In February of 1988, I was unlucky – the kind of unlucky that only happens to around 200 kids in the United States each year. I was a few weeks shy of my 11th birthday when I was diagnosed with Ewing's Sarcoma, a rare form of bone cancer. I was plunged into a crazy world of chemo, radiation, surgeries and hospitalizations.
A few months into my cancer journey, my social worker approached me about attending a new summer camp in Connecticut for kids who had cancer. My immediate reaction was no way … I had no interest in a week-long experience that I imagined to be like an after school special with a bunch of sick kids sitting around a campfire singing Kumbaya. I turned down the invitation to attend Camp during its first summer in 1988. To this day, I deeply regret that decision.
Thankfully, LIFE magazine did a beautiful feature on The Hole in the Wall Gang Camp in September of 1988. I read every word of it while waiting for pre-admission labs to be drawn. It became clear to me that this Camp was not a place where we would wallow in our cancer feelings and contemplate our mortality. I quickly signed up to "raise a little hell."
After my first session at Camp in 1989, I began to think of myself as the luckiest of the unlucky. This place became my home. Here, I wasn't the cancer kid. I was that girl with the New York accent who loved theater and arts & crafts, who happened to be bald from cancer treatments.
My parents picked me up that first summer and I told them I was never going to stop going to Camp. True to my word, I have never stopped. I was in the first class of senior campers and the first group of Leaders in Training. I worked as a lifeguard, a cabin counselor, a unit leader and a floater. I graduated from college and took teaching jobs so that I could continue to work at Camp. I met my husband at Hole in the Wall, he proposed to me right outside the purple unit as we promised to "love each other in sickness and in health till death do us part" surrounded by our Camp friends. In that moment, I was the luckiest woman alive.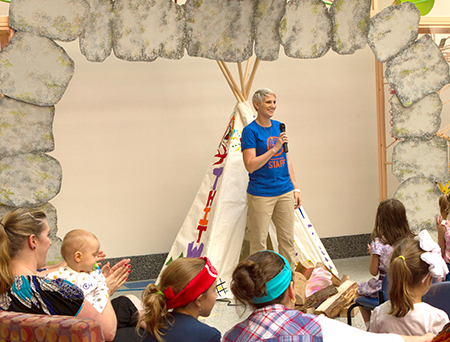 Currently, I get to bring "a different kind of healing" to kids and families in the Philadelphia area through Camp's Hospital Outreach Program. It is a privilege to work with some of the unluckiest families as they struggle to find their way during their darkest times. These kids and their families remind us every day that luck is a fickle thing, but laughter and play make the unluckiest of times more tolerable.
I am often reminded of my 11-year-old self and amazed at how quickly a situation that makes you feel unlucky can turn into an experience that redefines your life. Luck continues to be both benevolent and brutal, but the chance of it is much easier to bear with my Camp family around me. It was Camp coworkers who made me laugh all through my breast cancer surgeries, the great sorrows of infertility and the joys of adoption and motherhood. As I continue to deal with the struggles of late effects from treatment, my Hole in the Wall family is reminding me that I still remain the luckiest.
---