Hit the Road
Posted on by Padraig Barry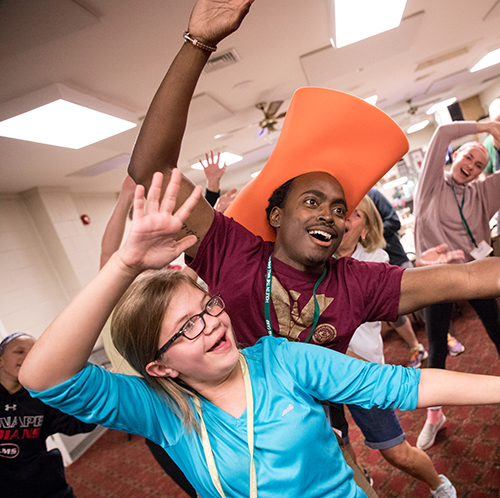 Going into our offsite Family Weekend, I wasn't sure what to expect. It was our first time facilitating a residential program away from the confines of our facility in Ashford, and we were working with a population with which we had little experience. What we knew was we had to bring the essence of Camp with us and recreate the magic to allow "a different kind of healing" to take place.
How could we do that? Finding a site that would afford us the same amenities as Camp was going to be key. We searched three states – Del., Md. and Penn. – before finding the Blackrock Retreat Center in Lancaster, Penn. Like Camp, it offered the intimacy, comfort and activities that would allow families to relax, reconnect and recharge. Like Camp, it was utterly rural, yet still relatively close to urban centers and local hospitals. It was the exact backdrop we would need.
To ensure the appropriate medical support, we partnered with Children's Hospital of Philadelphia (CHOP), which was very innovative. Working with CHOP's medical and psych-social teams to identify a medical population who could benefit from this kind of intervention was also an exciting opportunity for us. It both exposed Hole in the Wall to potentially new service groups, and it was helping to serve a psych-social need that the hospital had identified but were unable to address.
Partnering with Dr. Rachel Hachen in the neurofibromatosis clinic in particular was key to the success to this program. Rachel's advocacy for the families in her clinic and the neuro-oncology clinic – her knowledge of her families, their needs and a desire to serve them – led her to be the greatest champion for this weekend. With support from Amy Lynch at Temple University and her occupational therapy students, longtime Camp volunteer Dr. Nick Evageliou, and Dr. Michael Fisher, who is the head of the neuro-oncology/neurofibromatosis program at CHOP, the weekend was covered by a stellar medical team.
And thanks to the incredible Philly Hospital Outreach program staff and Hole in the Wall volunteers, the Camp culture was completely transplanted. For me, walking into the dining room was really fun because we were creating our own music and mischief. Families had their banners on the walls. Giant board games lurked in the corner. The place looked awesome. I had to giggle when one of the families in attendance later told me that they have instituted the bushy tail list to the end of their dinners each day and acknowledge the good that happened during the day.
We had identified three core objectives of the weekend – establish relationships between the families, identify additional resources for the families and build out connections for the affected and effected children. And of course, it was critical that we let these families have a lot of fun and expose them to new activities. All of which we did. Thank you Ann Gillard for doing the follow up with families.
From children petting a skunk, to archery, to lasertag, to the tower, the fun for the families was a massive thing.
Families spoke of being transformed from that first night to that Sunday afternoon – they came in as individual families and some were even a little challenged by that, but left as the neurofibromatosis group on Sunday, which was beautiful to hear. Families were playing together. Relationships were developed and have blossomed.
Saturday afternoon, we had a "parent hour" that went on for three hours. It was a wonderful opportunity for parents to be able to connect and tell their story to other parents who really got it. Equally as important, they were able to access their medical and psych-social professionals in a much more relaxed environment. They felt really listened to and heard. Many said it was the first time that they told their story outside of their family and allowed themselves to be vulnerable in the moment.
While all that was happening, the children were also engaged in really thoughtful programming from crafts to yoga and more.
The level of participation from parents and children certainly increased throughout Saturday into Saturday night. Come Sunday morning, the sunny disposition of the families and staff were fully enthused by the weekend's proceedings. By the time we did our wrap up on Sunday morning and had lunch, we had families talking about a transformative experience, a magical experience and a fun experience. People left tired but refreshed and inflated by a lot of safety respect and love. The families certainly took the Camp culture with them, which was important to us. And many made a strong plea to be invited back next year.
We're excited about the road ahead as we continue to offer these experiences in the mid-Atlantic region, and are grateful that an ever-growing number of families will be able to enjoy the hope and healing of Hole in the Wall.
---