A "Hole" Lot of Growth
Posted on by Jimmy Canton
"The need is great and so are the opportunities to make a difference one smile at a time".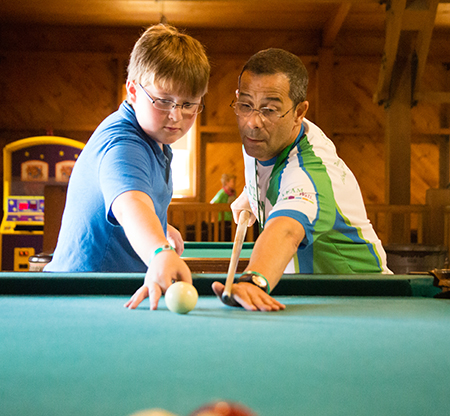 At a recent staff retreat I began our meeting with this quote from Camp's Founder. It goes to the heart of what we are about and is a critical reminder when we discuss growth and increasing service.
For the past five years, Hole in the Wall has been engaged in our most ambitious growth to date. Since our Board approved our strategic plan in December 2012, our year-round staff has grown by 50% (from more than 60 to more than 90 competent, compassionate and committed employees); our operating budget has grown 30% from $9.7MM to $12.8MM; we launched CampOut – which brings Camp activities and spirit to the homes of campers in need of a Camp boost and to local communities where one-day programs connect children and families with others in their region; we have also introduced a research and evaluation function, which allows us to refine and improve our programmatic offerings in real time and begin to measure the longer lasting impact of Camp services; we renovated all fifteen cabins to serve camper families in the fall and spring and provide updated bathroom facilities for all; and our Hospital Outreach Program nearly doubled the number of locations where we provide services, from 22 to 41. At the end of the day (aka strategic plan), numbers of children and family members served have more than doubled to somewhere north of 20,000 per year – many of whom are served multiple times a year in a variety of services.
This number is empty, however, without the assurance that these services lighten the burden and restore the spirit of the children and families for which they were created – child by child, adult by adult.
At Camp's recent Gala, an extraordinary mother shared her daughter's story. This beautiful child has a unique combination of genetic mutations and is profoundly impaired in speech and mobility. At the age of 6, she has had a rather limited life, as have her parents who care for her around the clock, every day of the year.
At the Gala, mom talked about the wondrous world of Camp, where she and her husband witness their daughter's joy and remarkable engagement with Camp activities. Following mom's speech, the family was invited by a Camp friend to meet Ernie from Sesame Street, who just happens to be our camper's FAVORITE muppet! Shortly after, I received this message from mom:
"Camp…helped us let (our daughter) become more and more her own person. I feel as though I am watching my child wake up to the world…and it is a journey, that in many ways, began at Camp."
Paul Newman was crystal clear in his motivation to start The Hole in the Wall Gang Camp. Though the dream was bold, audacious and noble, his motivation was grounded in humility, as is ours today. As Camp continues to grow in the future, the rationale will always remain crystal clear. We are privileged to be here, in this work, to make a life-changing difference, one child, one family, at a time.
Our sincerest best wishes to you for a heartwarming, joy filled and healthy, hopeful New Year.
---