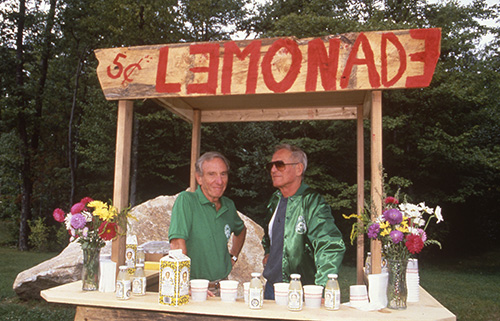 The Hole in the Wall Gang Camp has been blessed with many friends over the years, but one of the very first and finest was A.E. Hotchner, who passed away at age 102 on February 15, 2020. While his friendship with Paul Newman and many accomplishments as a writer are well known, at Hole in the Wall the man known affectionately as "Hotch" left behind a legacy that lives on in the hearts of thousands of seriously ill children
and family members who are the true
beneficiaries of his friendship.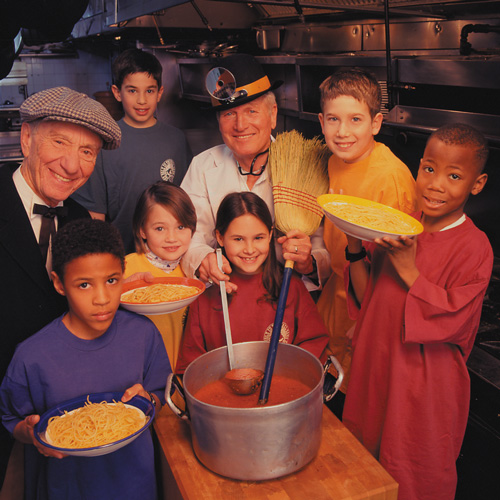 One of The Hole in the Wall Gang Camp's original founding board members, Hotch's compassion and creativity were driving forces from the very beginning. He played a crucial role in many of the meetings and negotiations that helped get The Hole in the Wall Gang Camp started, including the pivotal recruitment of Camp's Founding Medical Director Dr. Howard Pearson. Hotch was also instrumental in the building of the Camp theater, which not only created an ideal setting for Stage Night and Awards Night for the campers, but also became the perfect home for Hole in the Wall's signature fundraising event, the Fandango Benefit Gala. Hotch set the tone for the annual fundraiser that paired famous friends with campers in a performance filled with memorable moments of inspiration, humor and heart. Hotch was the director of the Gala for its first 15 years, and for 20 years he wrote hilarious sketches that invited the improvisation of celebrity friends. The audience never knew what would happen next.
When spending time at Hole in the Wall, Hotch delighted in sitting on the Infirmary porch in the heart of downtown Camp. "When I go to Camp," he said, "I am uplifted by the children." So many of those children have reached out to recognize the touching and inspiring friendship they shared with Hotch.
As someone who has been privileged to be involved with Camp since its very first summer, it is hard to imagine a Hole in the Wall without Hotch and his unwavering loyalty, enthusiasm and dedication. I will always be grateful for the faith he had in me and for his ardent support for Camp staff, which he often expressed by opening his home to a gaggle of summer counselors for dinners of Cornish game hens and countless stories of his adventures with Camp's Founder. Those dinners lifted our spirits and brought all of us who attended closer as community.
Hotch's friendship with Paul Newman led to many schemes to make the world a better place, which went on to benefit millions of people in need. How fortunate we at Hole in the Wall have been to know Hotch, not only as a man of letters and philanthropic vision, but as a friend whose compassion, drive and creativity were repeatedly unleased for the benefit of our children, their families and the Camp staff. Our hearts are filled with gratitude for all that Hotch did to nurture The Hole in the Wall Gang Camp community and our thoughts go out to his family, including his son Timothy, whose love for our campers is the best reflection of his father's heart. Hotch will be deeply missed, and his spirit will live on at Camp thanks to all the ways that he shaped our mission. Happy trails to you, Hotch. Until we meet again…
---
Comments: