Bandits in the Big Apple 30th Anniversary Celebration
When: Monday, September 24, 2018
Where: PlayStation Theater, 1515 Broadway, New York City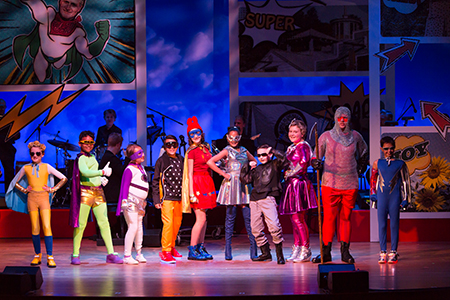 Saddle up as Hole in the Wall returns to New York City to celebrate 30 years of fun, friendship and Camp magic. "Raise a little hell" with us in the Big Apple and enjoy a festive evening featuring cocktails, hors d'oeuvres and dinner, culminating in a mainstage performance by Hole in the Wall campers and celebrity friends.
ROUND UP
6 P.M. Pre-Performance Cocktail Reception
7 P.M. Seated Dinner
8 P.M. Bandits in the Big Apple 30th Anniversary Performance
9:30-10:30 P.M. Post-Performance Dessert Reception
Online ticketing for this event is now closed. If you are interested in attending our Bandits in the Big Apple 30th Anniversary Celebration, please call Jennifer Weeks, Director, Special Events, at (203) 745-2723 or email her.
Make a Donation to Support this Event
27th Fandango Benefit Gala – September 9, 2017
The 27th Fandango benefit Gala was held September 9, 2017 at The Hole in the Wall Gang Camp in Ashford, Conn., More than 350 guests gathered gathered under clear blue skies for the event, which raised more than $1.25 million for Camp.
The day kicked off with a festive celebration complete with tasty treats, lots of fun activities and great music by Boston-based band, Business Time. Guests mingled throughout downtown Camp enjoying lobster rolls, tacos, pizza and more while crafting wooden nametags, creating photo magnets and bidding in the silent auction.
The afternoon continued with the live auction and short program where camper mom, Hillary, shared her experiences at Rare Disease Family Camp and the powerful impact Hole in the Wall has on children and families coping with extremely rare medical issues. As the bidding began, a lively competition broke out among guests, which was spurred on by professional auctioneer duo Erin Ward and Bobby D. Standout items included a set visit to hit show This Is Us with a meet and greet with star Milo Ventimiglia, a signed portrait of Paul Newman, tickets to a Saturday Night Live dress rehearsal and more. Auction Emcee and actress Whoopi Goldberg and Board member Terry Coughlin jumped in with their own impromptu offerings - a dinner with Whoopi and a bottle of 1965 Barolo autographed by Board member and baseball hall-of-famer Sandy Koufax in honor of the year Sandy pitched a no hitter.
It was then time for the main attraction – the Fandango performance starring board member and actress Bridget Moynahan, actress Teri Hatcher, actress Melissa Joan Hart, Broadway stars including Justin Guarini, and 10 incredibly talented campers who were transformed into superheroes for the poignant show. During the show, long-time Camp supporter, Travelers, was recognized with the Most Wanted Award for their unwavering friendship to Hole in the Wall.
Following the show, guests enjoyed a dinner buffet and delicious desserts, and danced the night away under the twinkling lights.