27th Fandango Benefit Gala
When: September 9, 2017
Time: 2:00 - 9:00 p.m.
Where: The Hole in the Wall Gang Camp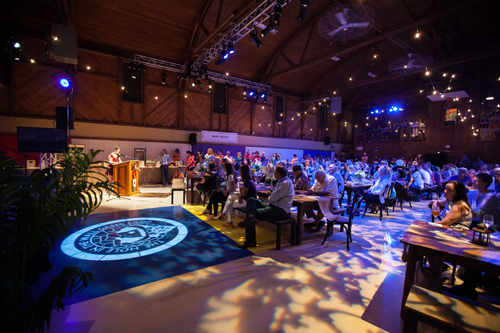 Join us for an afternoon and evening of fun for all at the Fandango Benefit Gala benefiting Camp's growing programs! Cocktails, hors d'oeuvres and music on the Dining Hall lawn kick-start the activities, while silent and live auctions take place in Sports and Rec. Guests will be treated to a live performance in the Theater starring celebrity friends and Hole in the Wall campers followed by a post-party featuring a buffet dinner, band and dancing!
Purchase Program Book Advertisement
Make a Donation to Support this Event
Volunteer Opportunities: Auction assistance, parking, greeters, ushers and more! Let us know if you can help!
26th Fandango Benefit Gala – September 17, 2016
The Hole in the Wall Gang Camp celebrated its 26th Fandango Benefit Gala Saturday, September 17th. The annual gathering kicked off under sunny skies with more than 350 guests enjoying passed hors d'oeuvres, a clambake provided by Tilden Seafood and food trucks serving up pizza, tacos, meatballs and freshly baked cookies on the Rec Center green!
The sounds of New York City-based cover band The Barnstorm echoed throughout the Camp grounds, as guests mingled under festive tents and channeled their inner artist, decorating nametags out of wooden medallions and applying Paul Newman temporary tattoos. A lemonade stand served as a photo back-drop for guests to capture their Gala memories, with On the Spot Photos turning the snapshots into keepsake magnets.
The Silent Auction drew crowds into the Rec Center with featured items such as Orchestra tickets to the Broadway hit HAMILTON, an all-inclusive stay at Hard Rock Hotel Punta Cana, New England Patriots VIP tickets and on-field pre-game experience and more! Prior to the Live Auction getting underway, guests were treated to a clip of Paul Newman's press conference at Yale held exactly 30 years prior where he announced the building of Camp and called upon the community to support his efforts. Comedian, actor, writer and director Michael Ian Black led a spirited Live Auction alongside actor Brad Aldous and professional auctioneer Erin Ward from Star Benefit Auctions. Live Auction items went on the block including a weeklong St. Martin getaway, tickets to City Center's Sunday in the Park with George and a meet and greet with star Jake Gyllenhaal, an election night experience attending Stephen Colbert's The Late Show special and an original costume worn by Paul Newman in a past Gala skit.
Following the auctions, camper Giana spoke of her life-changing experiences at Camp after being diagnosed with a brain tumor at the age of 9. She told her story of the many medications she takes and how she was scared to try even the simplest tasks such as riding a bike because of her motor skill deficits. Camp enabled her to have more confidence and build life-long friendships with other kids in similar situations. Guests then had the opportunity to support the "campership" program and underwrite a child's Camp experience.
The celebration continued with a live performance in the Theater directed by Tony Award winner Kathleen Marshall. Hole in the Wall campers sang, danced and acted in skits alongside celebrity friends including Board Member Bridget Moynahan, singer Natalie Merchant, actors Amir Arison, Dane DeHaan and Anna Wood, comedian Aasif Mandvi and numerous Broadway stars. The Most Wanted Award was bestowed upon Board Member, Tony Award winner and past Gala director Jim Naughton for his unwavering commitment to Camp's mission and his constant advocacy for the children and families in our care.
The uplifting beat of the finale song Firework could still be heard as guests exited the live performance and were greeted by a starry night and twinkling tent lights illuminating the post-performance dinner buffet. The glow and warmth of tiki torches set the stage for the make your own s'mores station. Tunes from The Barnstorm kept guests dancing into the late hours! Before departing, supporters were gifted Camp-branded lanterns as a reminder that they carry the torch of our Founder. The evening raised $1.3 million for Camp's growing programs, thanks to our generous community.