24th Annual Beantown Bash
When: April 2018
Where: Boston Children's Museum: Boston, MA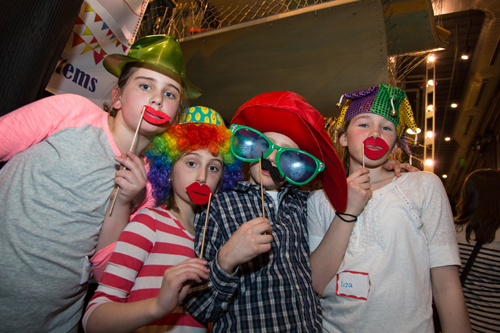 Fun awaits Camp friends of all ages as Boston Children's Museum transforms into themed areas for guests to explore during the evening festivities. Entertainment will fill the entire Museum and this year we are supersizing the Bash experience, extending the celebration to a heated tent on the Plaza!
In addition to interactive culinary stations and a buffet dinner, family-friendly activities include karaoke, arts & crafts, arcade games, meet & greets, costume characters including Pat Patriot, an Amazing Animal Ambassadors hands-on show and performance in the Museum theater featuring a variety of circus themed entertainers.
Make a donation to support this event
Volunteer Opportunities: Available at the circus and the reception and include program book distribution, registration and kid's activities. Multiple shifts are available. Let us know if you can help!
The 23rd Annual Boston Big Top Bash – April 9, 2017
The Hole in the Wall Gang Camp kicked-off spring at Boston Children's Museum for the 23rd Annual Beantown Bash! Over 800 supporters were in attendance as we supersized the Bash experience, extending the celebration to a heated tent on the plaza in addition to providing food and fun throughout all three floors of the venue. Guests enjoyed hors d'oeuvres, culinary stations and buffets, and the addition of a craft beer tap wall did not disappoint! Guests mingled in the tent illuminated by bistro lights and the glow of the Boston skyline, as they bid on silent auction items and experiences including an autographed Rob Gronkowski jersey, a 2-night stay in Tucker's Point, Bermuda, Green Monster tickets at Fenway and more!
Inside the museum, more entertainment was in store with a Willy Wonka themed Candyland table, karaoke hosted by the street team from 98.5 The Sports Hub, and an interactive animal show courtesy of Amazing Animal Ambassadors that featured a skunk, hedgehog, bearded dragon and cockatoo. New England Patriots Defensive Lineman Geneo Grissom signed autographs while mascot Pat Patriot high-fived and took photos with the crowd. Costume characters Strawberry Shortcake, Princess Belle, Pikachu, Batman and Superman joined in on the festivities as well!
Performances in the KidStage Theater included acts from Boston Circus Guild, with "The Hip-Hop Juggler" Paris, and contortionist and Hula Hooper extraordinaire Sara wowing party-goers throughout the evening. A green screen photo booth from Total Entertainment allowed guests to step in front of more than 80 backgrounds, including PEOPLE and TIME magazine covers and walking on the Great Wall of China. Guests made sure not to depart the evening without their Camp-branded lantern, a fitting keepsake to receive just in time for summer! More than $1.2 million was raised from the Bash to support Camp's growing programs.