27th Annual Big Apple Bash
When: November 10, 2018
Where: Big Apple Circus, Damrosch Park, Lincoln Center
When: 3:00 p.m.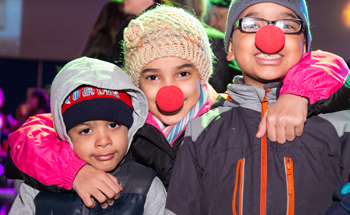 Check back soon for more details.
Make a donation to support this event
Volunteer Opportunities: Include face-painting, registration, photo booth help and kid's activities. Various shifts available. Let us know if you can help!
The 26
th

Annual Big Apple Bash October 21, 2017

The Hole in the Wall Gang Camp celebrated its 26th Annual Big Apple Bash in New York on Saturday, October 21st featuring a rockin' evening celebration at Hard Rock Café in Times Square.

"Bandit Brigade" presenting sponsors, American Packaging Corporation and LiDestri Food and Drink worked tirelessly to rally their networks throughout the year, raising $1.6 million for Camp's growing programs, a record fundraising total for the event!

LiDestri Food and Drink signature cocktails and mocktails and a juggler from Big Apple Circus greeted more than 375 guests upon arrival to the New York-themed festivities. Airbrush tattoos, dance revolution, balloon artists, arts & crafts and more entertained our youngest supporters in the Kid Zone. Cirque-tacular LED stilt walker, Lauralee, along with supersized NY-themed inflatables towered above the dance floor while a DJ kept guests dancing to current pop hits and classic favorites. A buffet dinner featured interactive Mediterranean, BBQ and carving stations, with cotton candy, ice cream and fried doughnut sweet treats rounding out the offerings.

Kicking off the evening's main stage program, Dandino from Big Apple Circus wowed guests with their original roller skating act, combining the worlds of art, dance, acrobatic, and daredevil skills. Camp's CEO Jimmy Canton shared program updates and introduced a Healing Feeling video highlighting sibling campers Dmitri and Lila who detailed how creating music together at Camp helped bring them closer together and overcome their challenges. Then camper Elsa took center stage, speaking about her diagnosis of Charcot-Marie-Tooth Disease, a form of muscular dystrophy that causes weakness and chronic pain. She moved the crowd, describing Camp as "the best thing that has ever happened to me!" and singing a spirited rendition of Count on Me by Bruno Mars. Co-Chairs Stefani LiDestri and Peter Schottland thanked supporters for their generosity and teamwork before the lights dimmed and Cirque-tacular's LED Cyr Wheel extraordinaire, David, closed out the program.

Guests danced the remainder of the night away and were gifted Camp-branded tote bags to commemorate the Bash.