23rd Annual Beantown Bash
When: April 8, 2017
Where: Boston Children's Museum: Boston, MA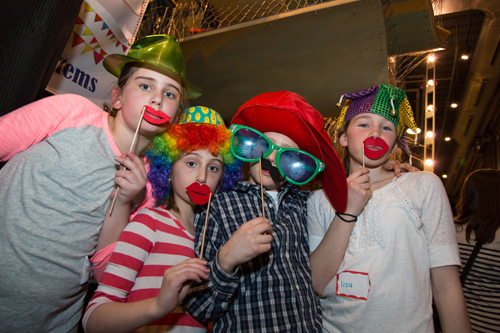 Fun awaits Camp friends of all ages as Boston Children's Museum transforms into themed areas for guests to explore during the evening festivities. Entertainment will fill the entire Museum and this year we are supersizing the Bash experience, extending the celebration to a heated tent on the Plaza!
In addition to interactive culinary stations and a buffet dinner, family-friendly activities include karaoke, arts & crafts, arcade games, meet & greets, costume characters including Pat Patriot, an Amazing Animal Ambassadors hands-on show and performance in the Museum theater featuring a variety of circus themed entertainers.
Purchase a sponsorship package to this event
Purchase Tickets to this Event
Make a donation to support this event
Volunteer Opportunities: Available at the circus and the reception and include program book distribution, registration and kid's activities. Multiple shifts are available. Let us know if you can help!
The 22nd Annual Boston Big Top Bash – April 9, 2016
The 22nd Annual Boston Big Top Bash was a fun-filled evening to remember! Nearly 1,200 campers and donors filled the Big Apple Circus tent at City Hall Plaza on Saturday, April 9th to enjoy Camp's private performance of "The Grand Tour." Complimentary face painting and clown noses were available for all, and New England Patriots Assistant Quarterbacks Coach Jerry Schuplinski signed autographs and took photos with guests before the start of the show.
Jerry then joined our campers and Camp's Chief Executive Officer Jimmy Canton in the Center Ring to kick off the circus performance in Camp style, revealing that more than $1.3 million was raised, a fundraising record for the Boston Big Top Bash!
Following the circus, donors continued the celebration at Boston Children's Museum, where Boston Red Sox's Wally the Green Monster, Elsa and Anna, Olaf, and Stu the Minion greeted and partied with guests throughout the evening's dinner reception. Guests of all ages enjoyed Museum exhibits, a photo booth, arts & crafts and were wowed by the magic of David Hall.
A silent auction capped off the night with items and experiences including Red Sox, Bruins, Celtics and Patriots tickets, an autographed Rob Gronkowski jersey and a getaway to Tucker's Point, Bermuda.