22nd Annual "Fore a Very Good Cause" Golf Tournament
When: Spring/Summer 2024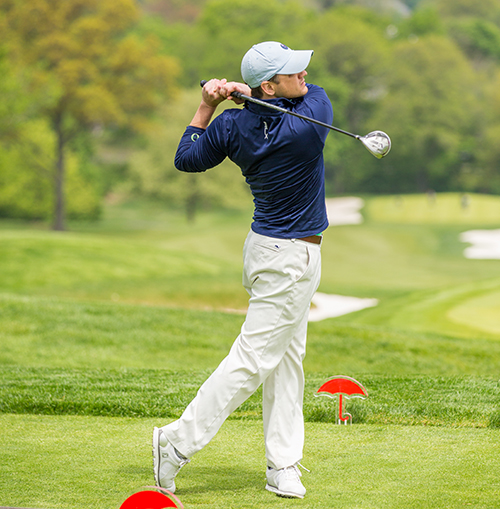 Tee off with The Hole in the Wall Gang Camp! Friendly competition during the 18-hole round will include putting and long drive contests, with foursomes once again vying to be named the winner of the "Poster Cup" in honor of longtime Camp Board Member and outing Co-Chair Dennis Poster. Brunch, on-course "Chuck Wagons" featuring grab-and-go hearty fare, a dinner reception, program and awards round out a day you won't want to miss, all benefiting Hole in the Wall's growing programs. Check back for more details!
If you are interested in participating, or have any questions, please contact Sam Klozik at (203) 745-2721 or via email.
Support Camperships or Make a donation
THE 21ST ANNUAL "FORE A VERY GOOD CAUSE" GOLF TOURNAMENT-June 5, 2023
Sunny skies greeted more than 75 Camp friends who hit the links in support of our 21st Annual "Fore a Very Good Cause" Golf Tournament on Monday, June 5 at Brooklawn Country Club in Fairfield, Conn.
Following a hearty brunch, players gathered at their carts where Camp's Chief Development Officer Robin Farrell joined Tournament Co-Chairs Mac Bayly, and Ray Lamontagne in thanking sponsors and reminding players that with every swing they're championing the seriously ill children and family members served by Hole in the Wall.
While on course, players visited "Chuck Wagons" featuring a variety of BBQ fare and were treated to a Taco Truck. Tito's shook-up custom cocktails and the Camp Snack Mobile was on the move throughout the afternoon, delivering salty and savory treats directly to players, keeping them fueled throughout the round.
Friendly competition out on course included players vying for Closest to the Pin, Longest Drive and Closest to the Fringe top honors. No golf skills were needed, though, for the Camp Prize Wheel where players "Spun to Win" Camp swag, or at the Key Corner where players chose keys that might "unlock" a TaylorMade prize pack during dinner. Players went "fishing" in Pearson Pond and attempted Marshmallow Chipping, aiming to win various rewards. And On the Spot Photos captured memories of the celebratory day, creating custom commemorative foursome magnets in minutes.
Following the lively round, players enjoyed cocktails, hors d'oeuvres and a dinner reception back at the Clubhouse. Hole in the Wall's Chief Executive Officer Jimmy Canton provided players with Camp updates before introducing camper Henry, who received a standing ovation after sharing how he first learned of Hole in the Wall through the Hospital Outreach Program while he was battling acute lymphoblastic leukemia and how Hole in the Wall has impacted him and his family ever since.
In honor of Camp Board Member and longtime outing Co-Chair Dennis Poster who passed away last summer, players visited The Poster Putting Contest throughout the day with the top four putters receiving gifts from Peter Millar, YETI and more! The Poster Cup was once again presented by Hole in the Wall Board Chair Ray Lamontagne to the 1st Net and 1st Gross winning foursomes. Each year, the names of the winning foursomes will be engraved on plaques, and the Poster Cup will be proudly displayed at the outing as a lasting reminder of Dennis's commitment to both the Tournament and Hole in the Wall.
Thanks to the generosity of Presenting Sponsors The Poster Family and Travelers and all those that championed "Fore a Very Good Cause," more than $120,000 was raised to benefit Hole in the Wall's growing programs.